Well, here we are in the midst of Spring.  The weather can't make up it's mind- chilly and rainy or warm and sunny.  I really want to start decorating and revamping my backyard, but it is just a little early- I really think if I start putting all of my ideas into place that it will snow all over everything (hee hee hee).
I am still celebrating my color of the month, DIY Paint Cowgirl Coral.  I have just fallen in love with its soft color, that really fits in with so many styles and blends with so many colors.
This month, I am collaborating with Becca from Miller's Crossing Design.  We decided to show you some really beautiful flower pot up-cycling projects.  They both turned out so cute!
1.  This Forgotten Pot is Looks So Pretty Now!
When winter arrived on Halloween last year (10″ of snow!!), we did not really take proper care of putting away our outdoor decor.  We pretty much shoved everything underneath our canoe on the side of the house. I have been pulling out items- specifically looking for a flower pot for this project.
I found this set- they are still in really good shape structure wise, but they all need a bit of love.  (ps- look at that babe in the background 🐕 ).
I grabbed my DIY Paint products in Cowgirl Coral, Mermaid Tail, Big Top, Pennies from Heaven and Shipwrecked wax.
Here is what I started with:
Here is the finished piece!
Isn't it pretty? I love the pops of copper with the coral over the the gorgeous teal and verdigris wax.
Here is the step-by-step video tutorial on how I achieved this look.
What do you think? I love it- now I have to finish the rest of them 😆 .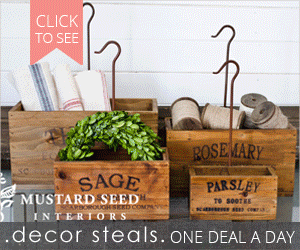 2. DIY Aged French Pots
Becca from Millers Crossing Design  had some ceramic pots laying around, so she grabbed her Cowgirl Coral and some IOD Moulds in Heirloom Roses and got to work.
Here is her before pot:
This is her result! Aren't they so pretty?! I've got to get me some of those moulds!
Here is her step-by-step video showing you exactly how she created this gorgeous pot:
What do you think?  Has this inspired you to grab your old pots and give them a new look?  I sure hope so!
Until next time,
Jane
PS- this post includes affiliate links where I might make a few extra dollar to help support my art supply addiction!